How T-shirts Played a Role in an Iconic UIUC Bar's Closing Celebration
Follow us on Instagram at @campus.ink!
How T-shirts played a role in an iconic UIUC bar's closing celebration
Posted by Laken Browning, October 22 2020
Summary: In honor of the one year anniversary of the "Last Call on Daniel Street Celebration" (10/19/2019) at Champaign-Urbana's beloved Kam's - here is a feature on how Campus Ink's team and our custom apparel made the commemorative weekend one to remember.
Photo of the iconic "Alma" at the original Kam's location
The Set-Up: Taking over the abandoned bar next door.
Kam's is a special Campus Ink customer who has been working with us since the beginning. When we found out Kam's was closing, we got a call right away to collaborate on merchandise.
We decided to use the bar next door to set up shop, and create a live print shop next door to the beloved bar.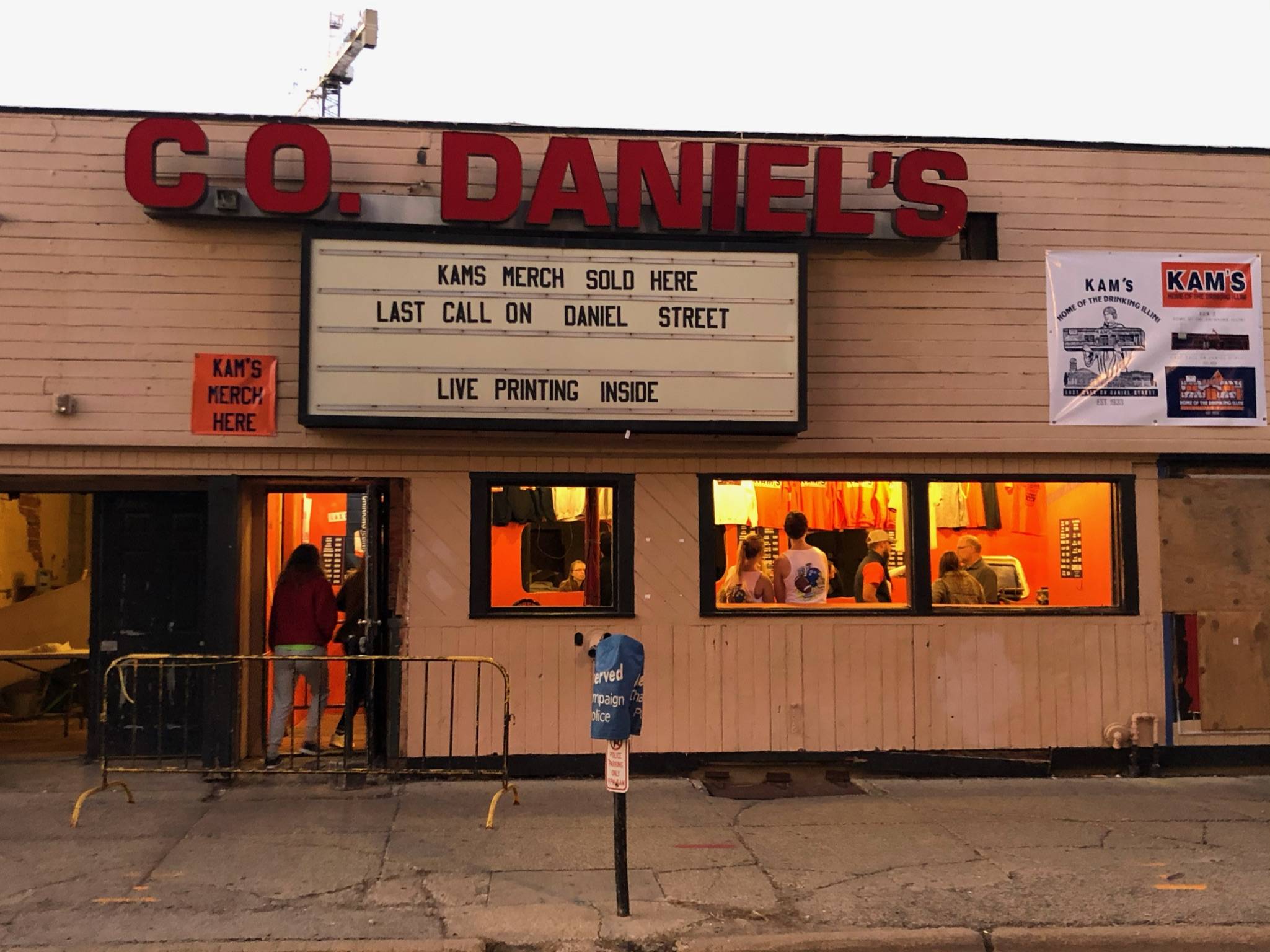 Outside of C.O. Daniel's where the Campus Ink pop-up shop was set up
3 days prior to the pop-up store opening, Campus Ink owners, Steven and Jedd, as well as some other team members, constructed a makeshift shop in the bar C.O. Daniel's storefront. By 4pm on Friday of homecoming weekend, they were ready to open. By that time, there was a line that wrapped all the way around the block with customers waiting to pick up their merchandise.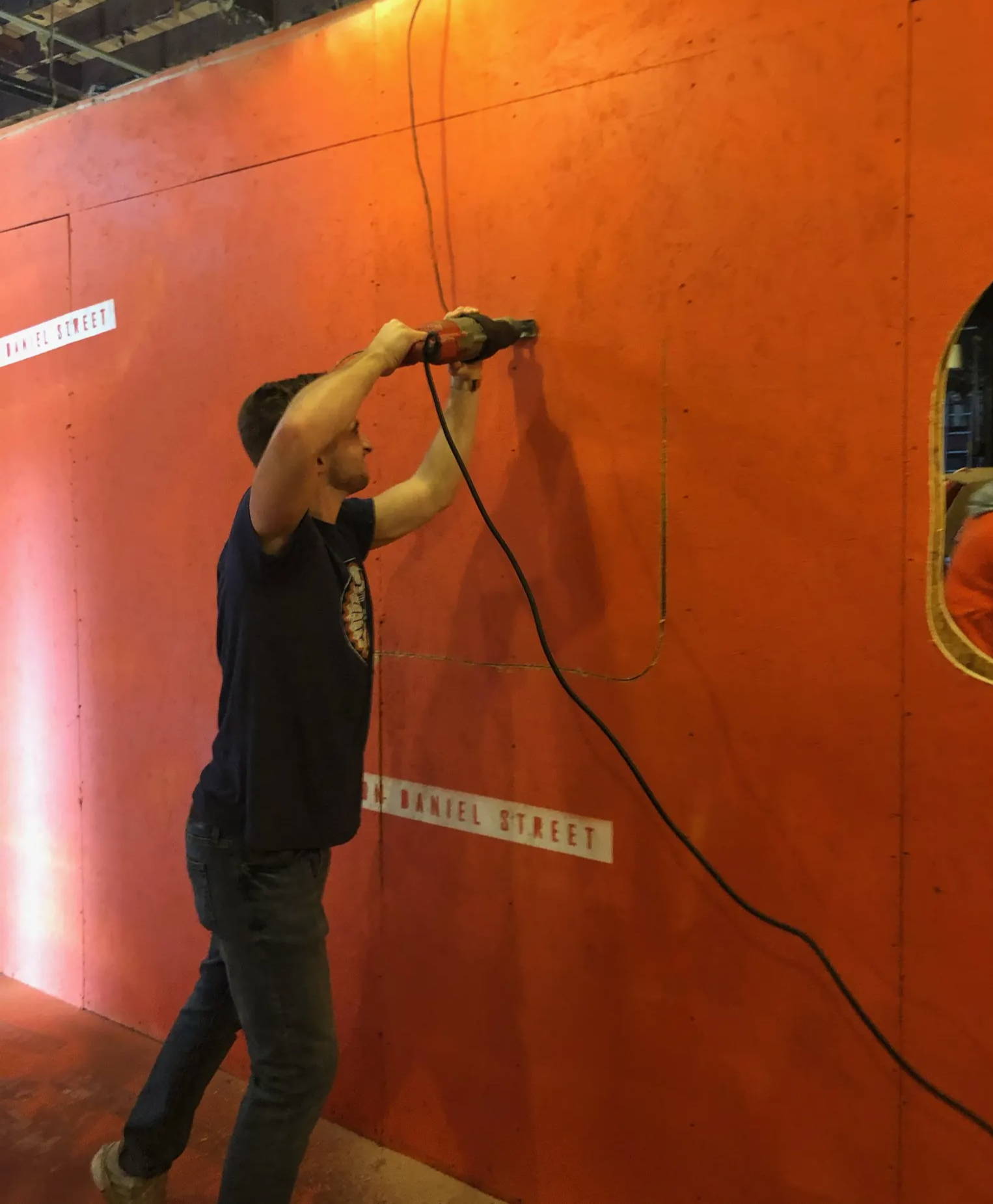 Student Designer, Lukas Elisha, helping with the pop-up shop build
Realizing this was more than "just a t-shirt"
From this experience, we learned that our partnership was more than just "selling t-shirts." Due to the great success of this pop-up, we worked with Kam's to build them a custom branded Shopify site (kams.store) — where they could house their apparel, utilizing it as an e-commerce platform.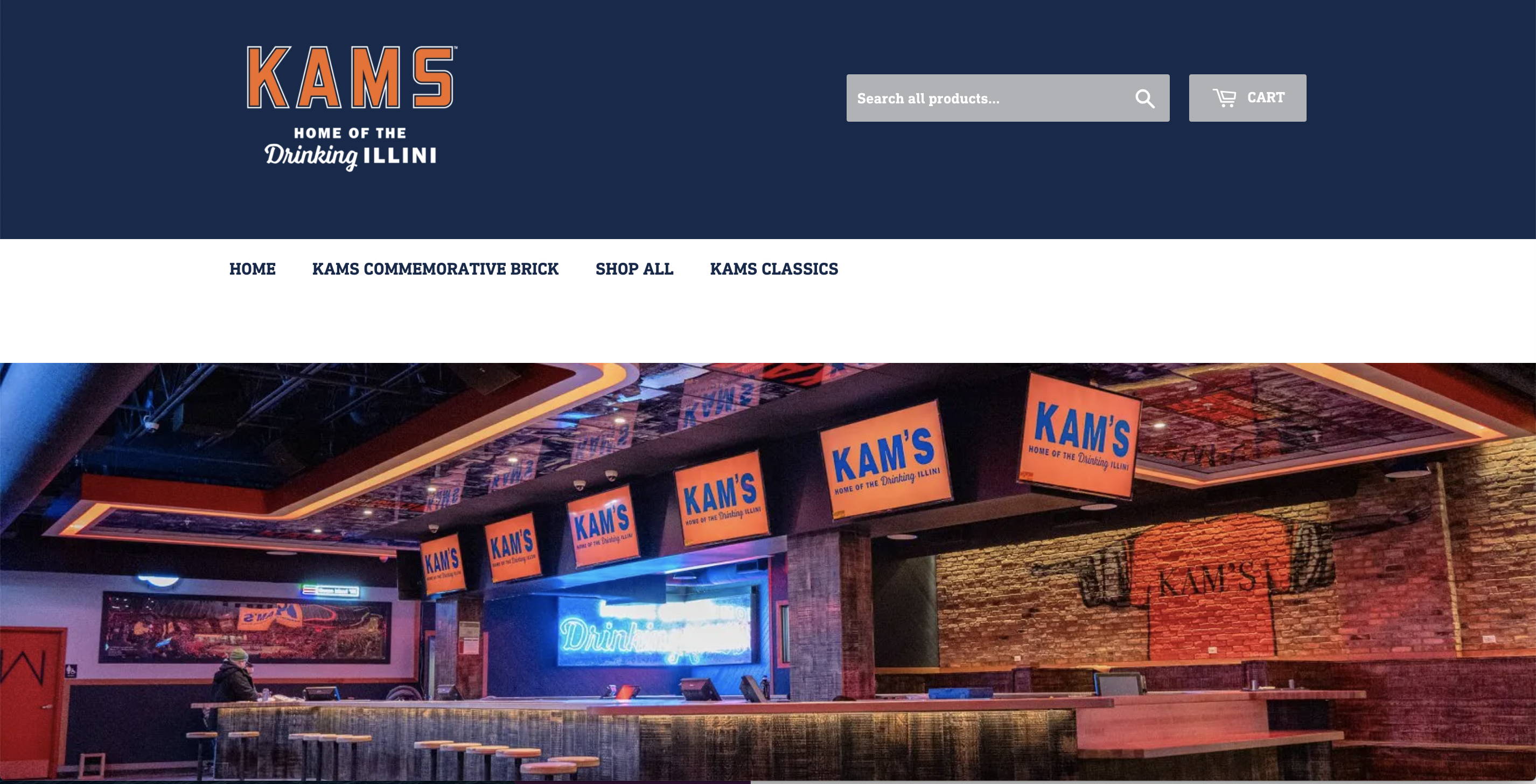 Screenshot of the kams.store website -- simple, user-friendly and effective
Through this, we were able to create a new website for their business - highlighting not only their merchandise but also what makes the iconic bar so special. Campus Ink was tasked with fulfilling thousands of orders for Kam's supporters all over the country - and this solution streamlined that process.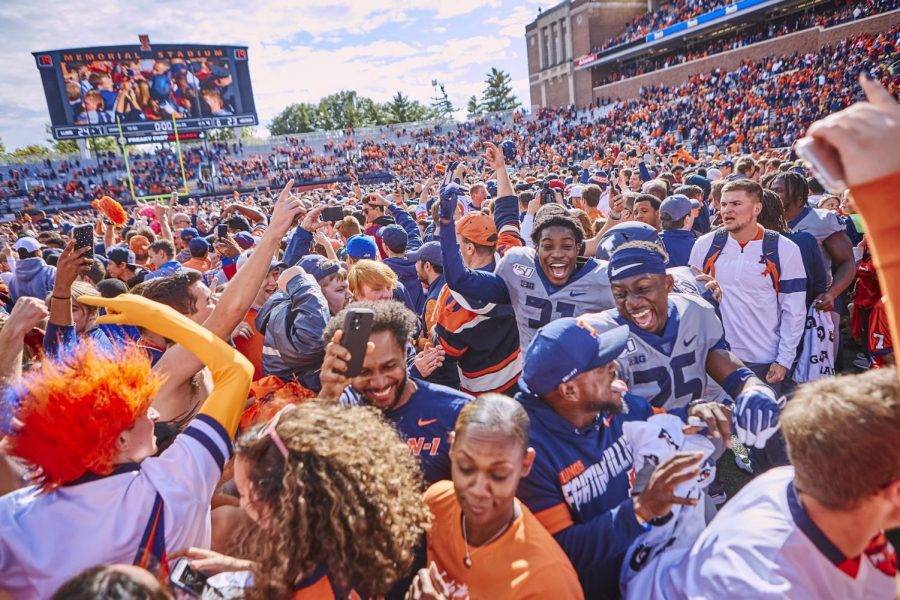 For the first time in a long time, the Illini beat Wisconsin in their homecoming game. Through quick thinking, we decided to print unique "Kam's Miracle" shirts — to commemorate the amazing win, and to memorialize the home of the self proclaimed "Drinking Illini."
Using the original Kam's sign as inspiration, Steven and the team ran back to our print shop, and burned screens for this new design. By utilizing orange shirts we had surplus of in our warehouse, Campus Ink was able to supply these brand new, timely shirts to Illini fans on campus and those visiting for Homecoming.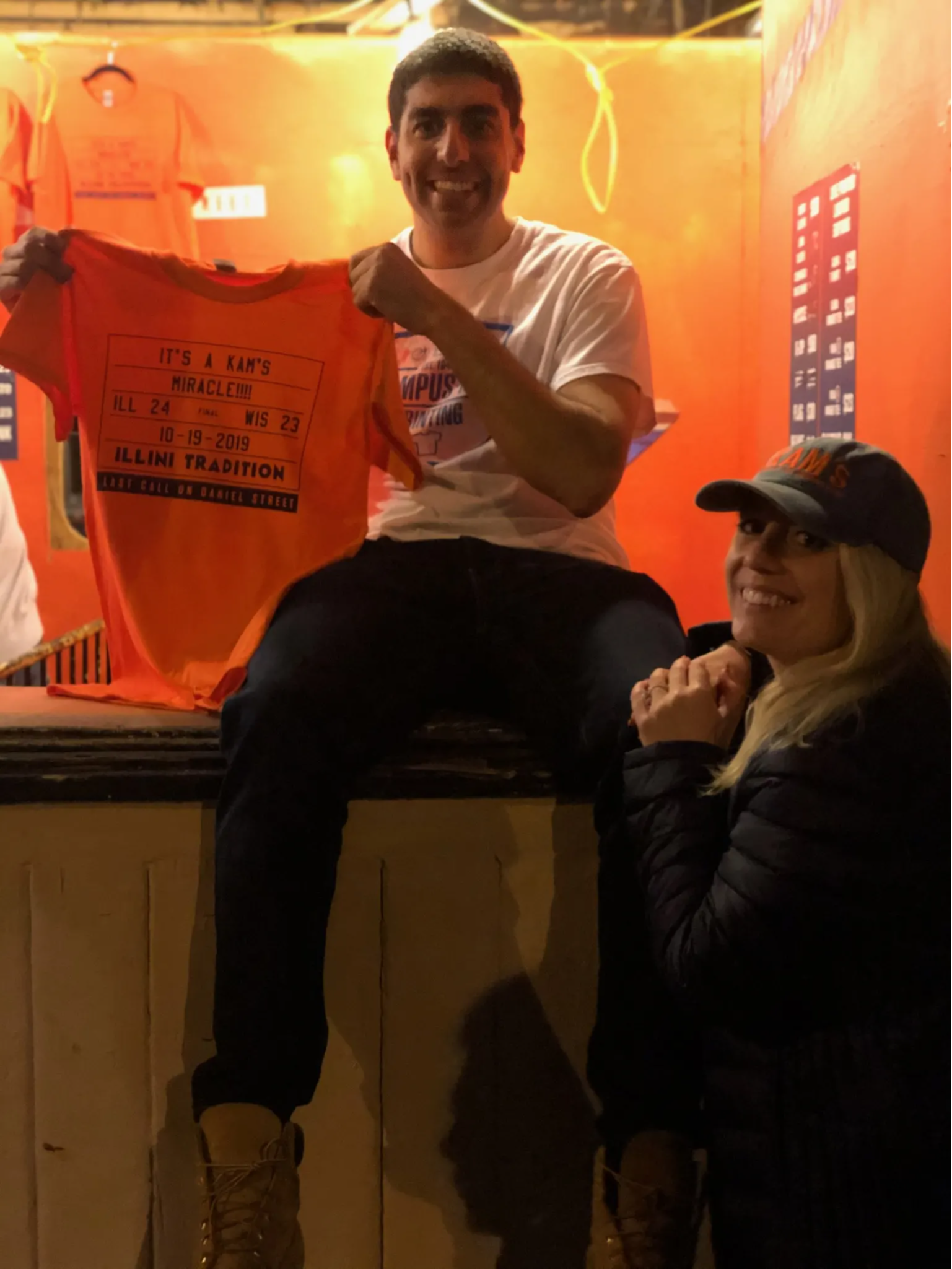 Campus Ink Co-Owner, Steven Farag, and his fiancé, Carson, showcasing the "Kam's Miracle" Tee
Over the next 24 hours, over 1,000 shirts were printed by hand in the pop-up shop. This fun, out-of-the-box idea showed us what happens when we come together with an awesome brand we love — like our tried and true friend, Kam's.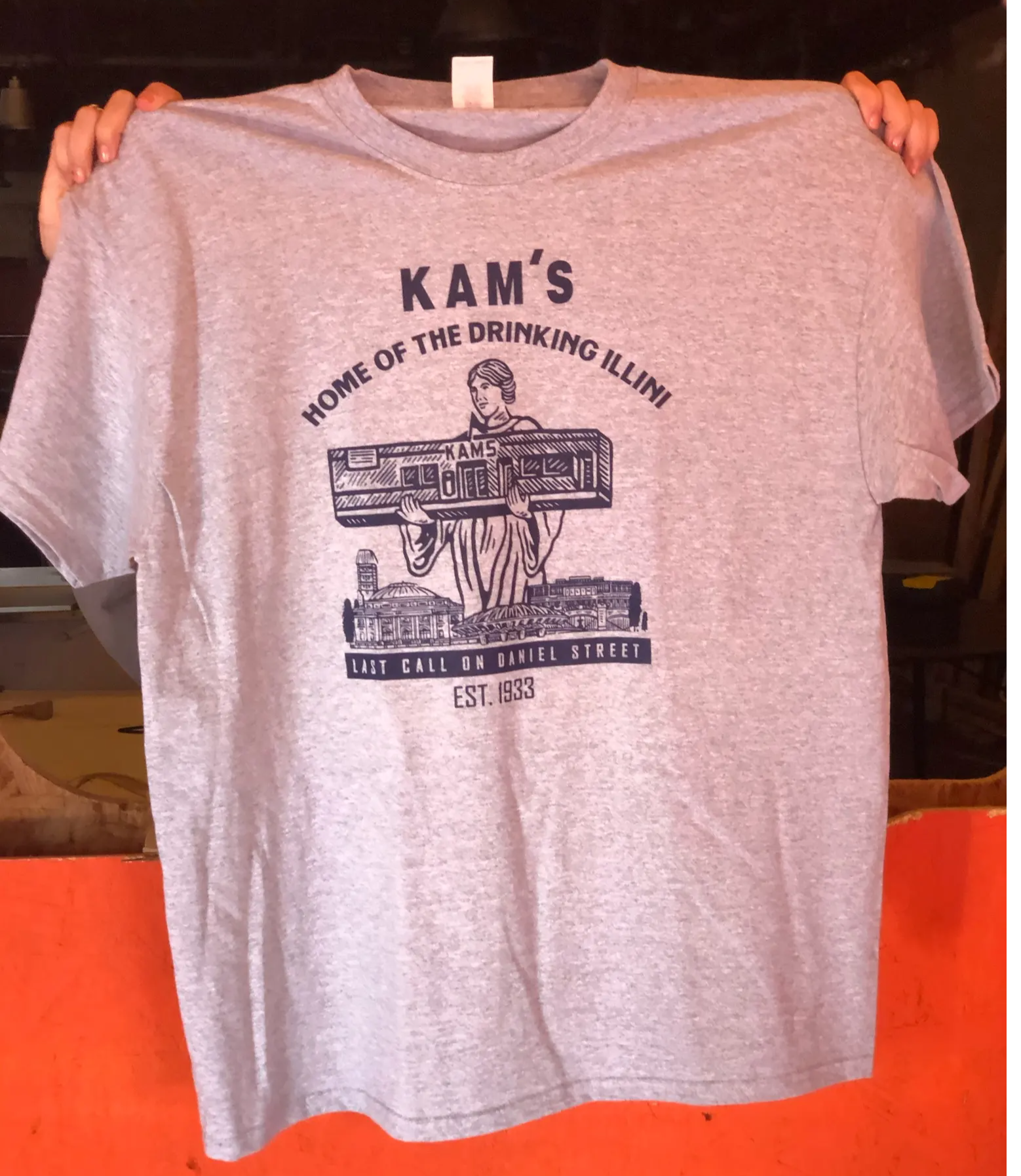 Summary: Sometimes t-shirts are the tangible souvenirs people look to hook their memories with. When KAM'S closed, it was clear - people wanted a piece of history to take with them. We realized quickly, no matter what the design was, what type of t-shirt we used - people wanted something to remember KAM'S by and it was important we were there on the ground to make that happen.
Check out the video below to hear even more about our pop-up with Kam's - directly from Steven himself!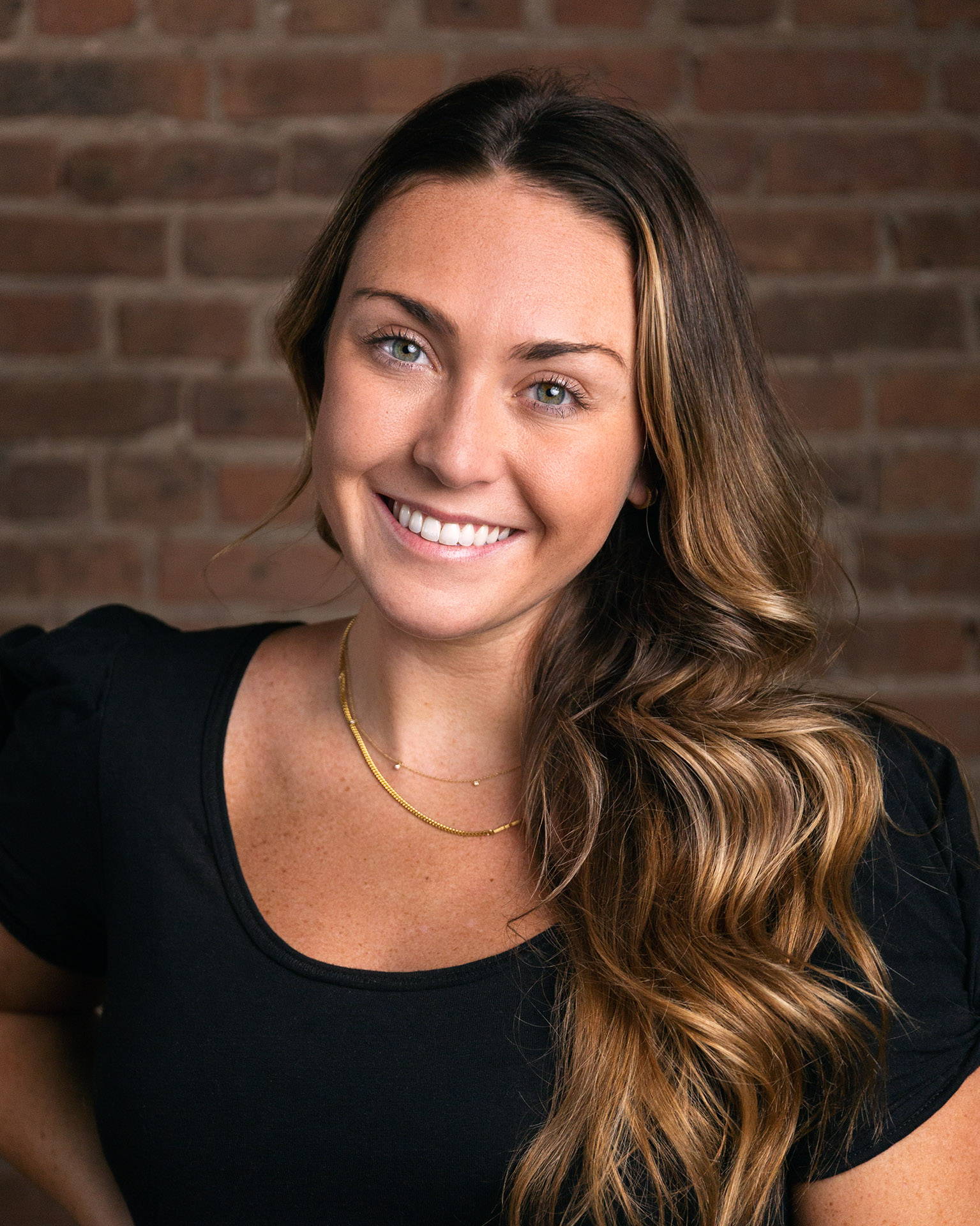 ---
Howdy! My name is Laken, and I'm the Director of Marketing at Campus Ink. I'm a University of Illinois alum and Chicagoland native, currently residing in Lincoln Park. I head marketing at Campus Ink - running our social channels, blog and email marketing. In addition to my "day job", I'm a yoga teacher and food blogger (@lakenmakes) - with a passion for health and wellness. I love music, cooking and caring for my house plants.  
---
Greek Apparel
Corporate Apparel
Booster Apparel
Branding
Marketing
Monetizing
Student Designers
---
Do you want to more information like this delivered to your inbox weekly?
---